The gig economy is growing vastly, and one of the greatest of all-time examples is Upwork, the most trusted and biggest gig economy marketplace helping freelancers and agencies with their daily bread and butter. 
I have followed Freelancing platforms for a long time and have already gotten my hand dirty on the platforms like Elance, oDesk, Freelancer, People Per Hour, Fiverr and Upwork. 
I have been following Upwork since its inception and the merger of Elance & oDesk. I see many changes in their platform functionalities, policies, connects usages, and payment mechanism. 
Recently, Upwork shared a new functionality to impact Collaborative Consumption or Sharing Economy significantly. It is the future of the work, although we have already learnt the same since the pandemic.
Remote working as a freelancer or agency is the future of today & upcoming era. Considering this, Upwork launched a functionality of submitting the proposal as a Team Proposal on the job, which demanded a collaborative team from multiple freelancers to a freelancer from a single agency to other agencies.
Upwork unlocks opportunities for everyone to work together on a single job in the marketplace. Team Proposals offer a way to shorten the search for Freelancers while still connecting clients with a team of skilled freelancers from the beginning. Previously, clients hired several separate freelancers to meet their needs, but now everything is sorted, and the process is very smooth and easy to use. 
Team Proposal at a Glance:-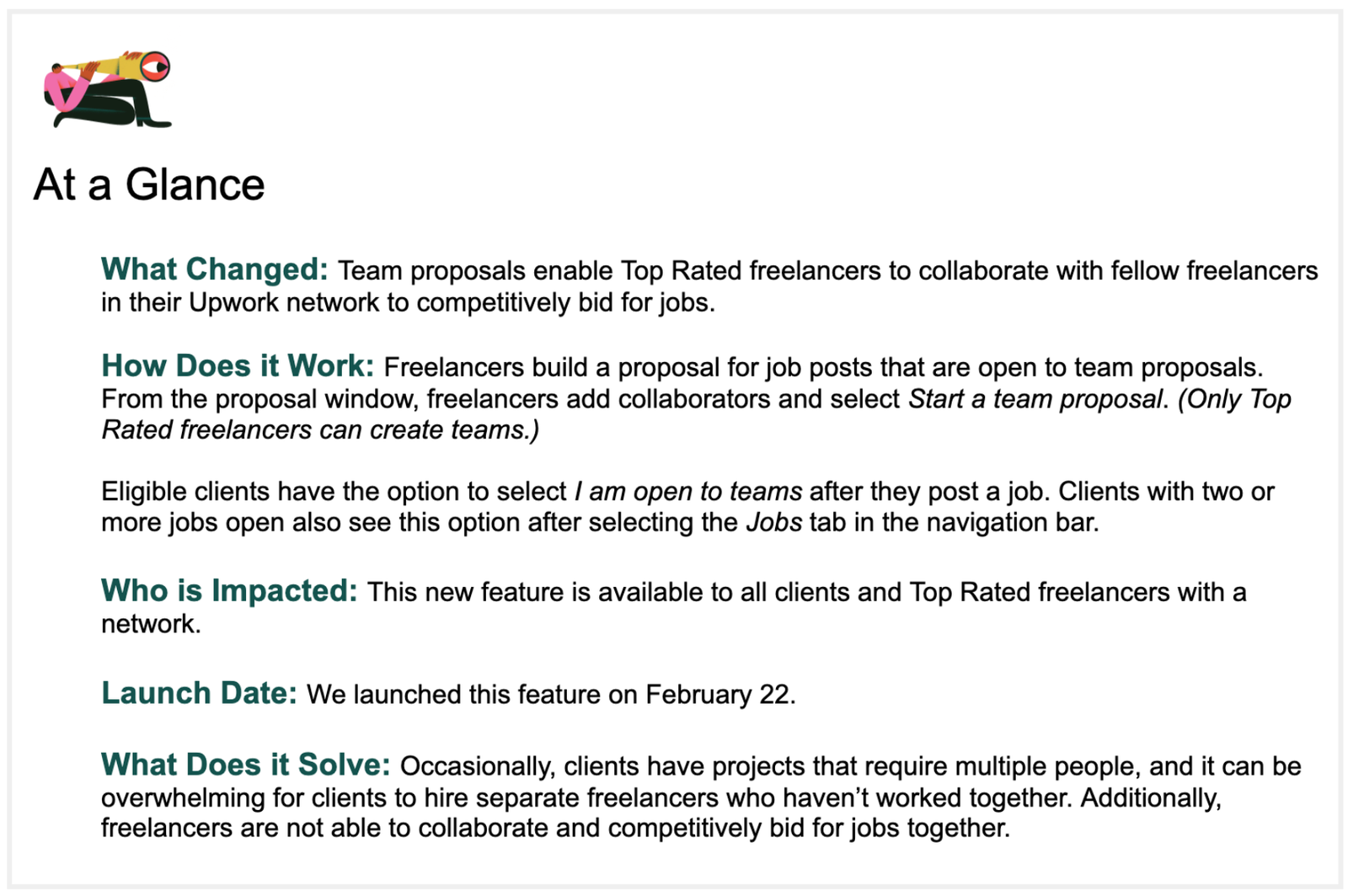 Currently, the functionality is in Beta mode. The job posts open to team proposals have a Team Opportunity label, only visible to Top Rated Freelancers with the Upwork Network.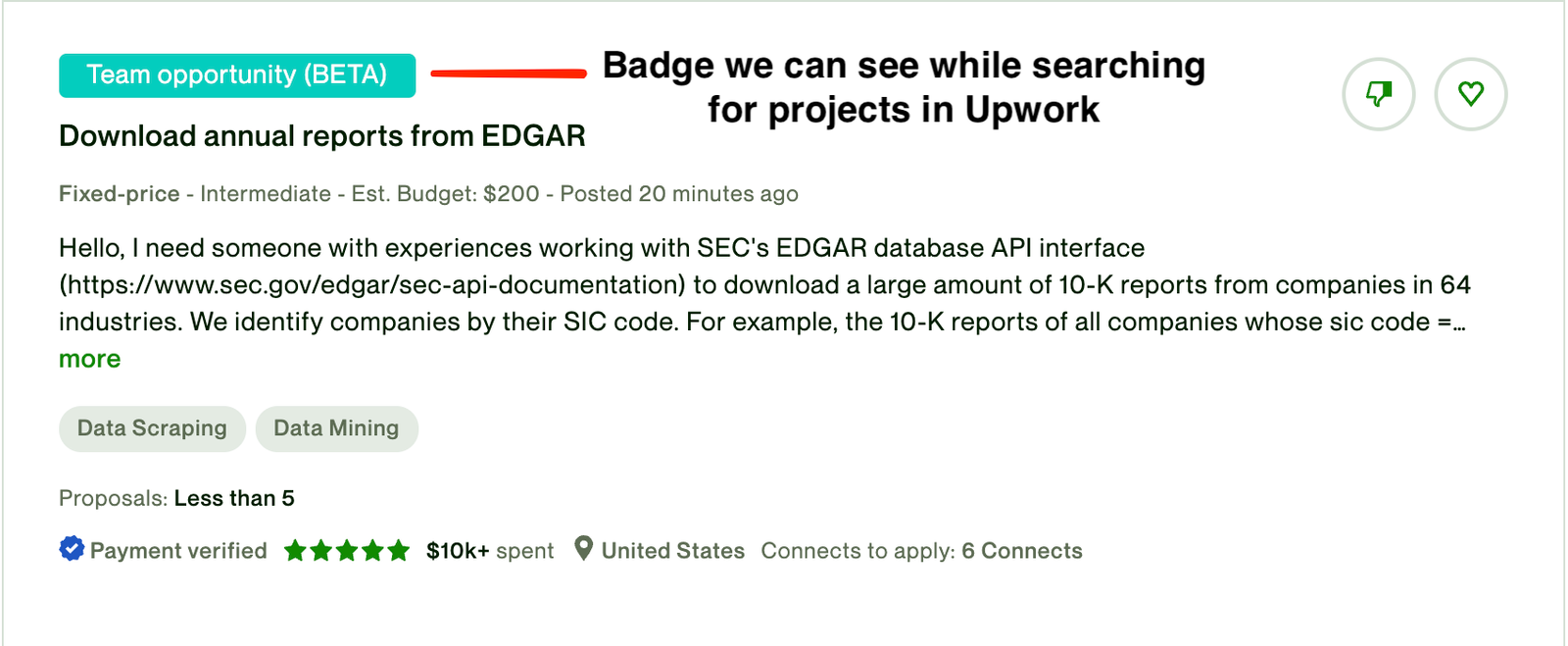 When the Top Rated freelancers click on the job opportunity, they can see the blue banner that says Create a Team Proposal. 
To add fellow freelancers to an Upwork Network, Top Rated Freelancers can select Add Talent to your network. 

Once fellow freelancers add to your network; you can choose them in your team proposal as your teammates. You can select up to four teammates in one bid.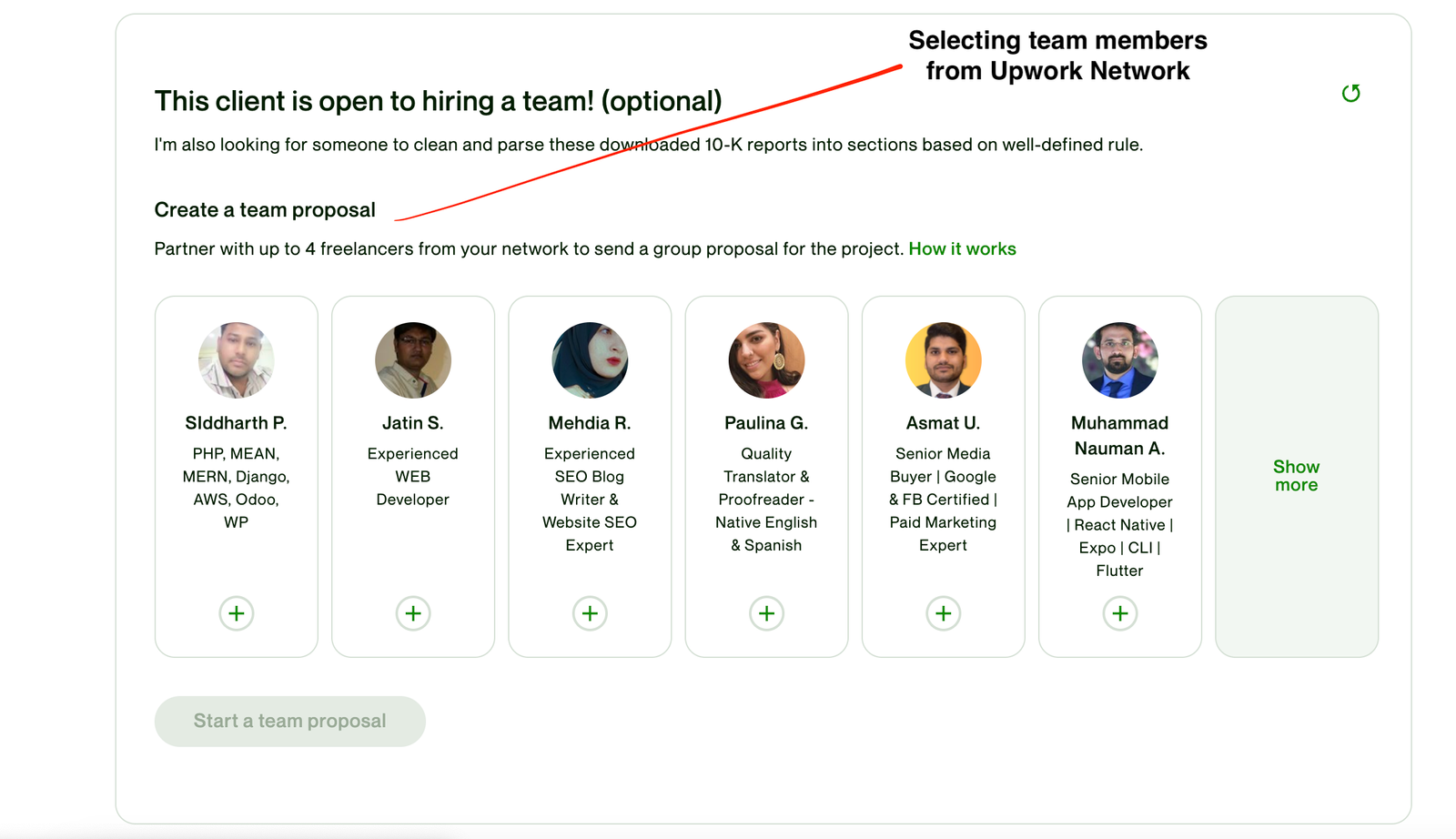 The selected teammates get a notice through email, and a draft proposal is accessible under the My Proposals section. Teammates can select Decline to opt out of bidding on the team proposal. If opted declined, they will be out of the team proposals. 
The proposal remains a draft until all teammates have entered and finalized their terms. The team lead-the freelancer who started the proposal- is the only one who can submit the completed proposal. In addition, the team lead can see the team's rates, while teammates can only see their rates. 
Once the team lead submits the proposal, it moves from the Draft team proposals to the Submitted proposals. 
If clients hire a team, they pay each teammate separately and manage their work individually.
With the feature of adding Talent to network and team proposals, I started calling Upwork the Gig Economy Social Networking Website.
If you are a Freelancer or Agency member and want to collaborate with me in my Upwork Network, connect with me on Upwork. 
If you are a start-up, entrepreneur, applications or business and want to get help in building web & mobile applications or any digital marketing support for your business or personal website, I would love to help you through my profile as well as through my agencies profile, check out Protovo Solutions LLP & JovialSoft Technologies. 
Email me anytime at, and I would love to help you - vishal@protovo.tech or vishal@jovialsoft.tech
Agencies website - Protovo Solutions LLP & JovialSoft Technologies
Reference: Upwork.com